Info about the 12" coming soon.  Look for it from Mt. Home/Broken World Media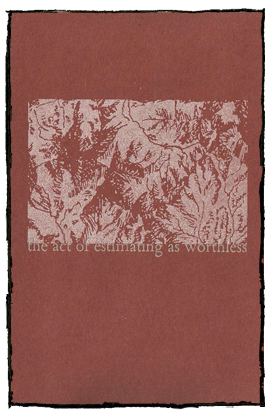 Amongst These Splintered Minds//Leaden Thoughts Sing Softly
12 Tracks, Released February 13th, 2012 - Cassette/Digital
on Mt. Home and Double Double Whammy
First Edition - 65 - Sold Out
Packaged in a handmade case with an 80-page book sewn in.  The cases are laser-engraved/cut, with foil-stamped text.  The accompanying book is color laser printed, with artwork to accompany each song.
2nd Edition - 300 - Buy it here!
Custom die-cut packages, designed by us, with silkscreened drawings and letterpressed text.  Fold out insert with artwork/info, and Madeleine Harrington's short story, which was written for the first edition, comes tucked in there separately.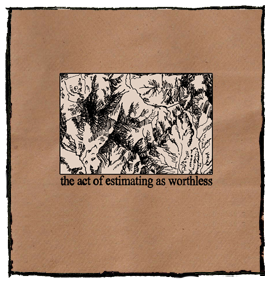 The Act of Estimating as Worthless Demo
4 tracks, released February 16th, 2011 - CD/Digital
Packaging: Silkscreened chipboard sleeves with 4-panel laserjet print booklet.  CD faces spraypainted and silkscreened in gloss. Edition of 50
This demo contains four tracks that we recorded ourselves, so the production is not very good.  These four will be on our upcoming full-length.  They were made to hand out for free at a series of shows in and around February 2011 so we could have something more recent than How Bright They Shine.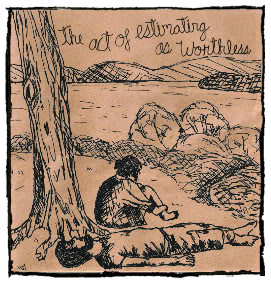 How Bright They Shine
Six tracks, released November 8th, 2009 - CD/Digital
Packaging: Silkscreened brown paper bags with a single panel laserjet print insert.  Edition of 100
These are the first six songs we ever wrote together.  We did not exactly plan on making a record while we were working on them, but then the summer was ending, and we had these six recordings, so we figured, why not?  We recorded everything ourselves using garageband and borrowed equipment, and we are evidently not the most skilled engineers.